Home
Latest News
About Us
Rainbow Bridge
Fern
Tia
Evie
Charley
Sevi
Tigger
Zuri
Talisker
Alfie
Pedigrees
Current Litter
Previous Litters
Health Tests
Links
Contact Us
Jupavia Fifty's Girl
(Charley)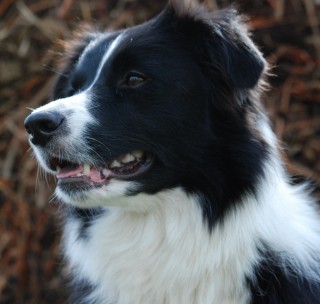 (Photo by Mike Douglas)


22nd July 2008


Charley was born in a litter of seven on 22nd July 2008, Dam: Goytre Tia's Legacy Of Dreams At Jupavia (Tia) Sire: Sh Ch Wizaland Cool Nifty Fifty JW. We spent a long time looking for a suitable stud dog for Tia. What we wanted was a dog who not only looked good but with a fabulous temperament. The litter was everything we had hoped for and when Charley was born Vicky said "If we were keeping one it has just been born.".

Well guess what? She stayed. She is a very loving character who follows me everywhere. Charley is extremely athletic and constantly on the go. Unless she is in a down stay it is very difficult to get a picture of her. She now loves a cuddle and is an absolute sweetie.

Charley has had a fabulous start to her showing career winning all her classes at open shows as well as best puppy in breed on several occasions (unless Evie won the best puppy). Charley won Best Puppy in breed at Herts and Essex Open Show and went on to win Puppy Group 1. Her best achievement to date was at Gravesend and Medway Towns Open show where having won best puppy she went on to win Best Puppy In Show. Charley has struggled to keep a good coat for the show ring but on her only outing last year she won the post graduate class, Best Of Breed and group 2, not a bad result.

Charley had a litter in November 2010, sire Jupavia Prince Of Thieves. This litter consisted of 3 red and whites and 3 black and whites all went to wonderful pet homes and are doing well. They all have loving natures and an eagerness to please. Charley adopted an orphaned puppy at a week old and brought it up as one of her own. Charley was a fabulous mother and didn't give it a second thought when she was shown the vulnerable puppy. Blake has remained an honorary Jupavia and very dear to our hearts.

Charley had her 2nd litter in June 2012. This time, 2 red and whites and 5 black and whites (3 girls and 4 boys). All have gone to wonderful homes. Shelby will be competing in agility with his auntie Roxy, and Darcy will be competing in Obedience. It is still early days but they are all wonderful characters. Once again Charley was a fabulous mum being very attentive and feeding them right up to just before they left us at 8 weeks.



Latest Pictures

(Photo by Mike Douglas)



Her Younger Days



Charley at 8 weeks



Charley at 8 weeks



Charley asleep at last



Charley at 12 weeks



Charley at 12 weeks



Charley at 3 Months



Charley at 6 Months



Charley at 6 Months



Charley at 8 Months



Charley at 8 Months



Wizard and Charley (8 Months)



Evie, Charley and Wizard



Wizard and Offspring