Home
Latest News
About Us
Rainbow Bridge
Fern
Tia
Evie
Charley
Sevi
Tigger
Zuri
Talisker
Alfie
Pedigrees
Current Litter
Previous Litters
Health Tests
Links
Contact Us
Show Champion
Jupavia Seventh Heaven JW ShCM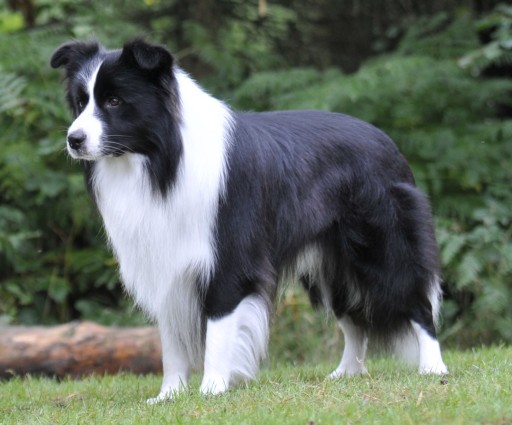 Born 22nd May 2011


Available at stud to approved bitches

He is Hip Scored 5:5
DNA Normal for CEA CL and TNS
DNA tested for MDR1 N/N clear
Hearing Tested Normal
Adult eye tested clear
Gonioscopy Normal


Sevi is now a champion !!!!!! at just 2yrs 3mths.

Sevi was born in a litter of 7 just 2 boys and 5 girls. We picked him in the very early days and haven't been disappointed in our choice.

He is a real sweetheart and really snuggles into you for a cuddle. He is such a happy chap and even when he is told off he just smiles at you and says "how can you be cross with me?".

Sevi started his show career with an amazing bang !!. At his first Championship show at just over 6 months he won his 2 classes. Within a week he won Best Puppy In Show at an all breed Open Show. Two weeks later he went Best Puppy in Show at Coventry Premier Open Show. Sevi continued his winning ways at Crufts 2012 by winning Best Puppy Dog. We are very proud of his record to date.

Sevi has started agility training, with a view to competing at a later date, following in his mother and grandmothers footsteps.

On 5th June 2012, he won the Junior Class at Three counties Championship Show, giving him his final points for his Junior Warrant.

On 16th June 2012, at SWECA all Breeds Open Show, Sevi was awarded Best Of Breed, Group 1, and went on to be BEST IN SHOW.

At Sevi's next championship show at Windsor, under Jan Starkey, he not only won, both his Classes, but he went on to be awarded the Dog Challenge Certificate, and BEST of BREED.

Sevi won his 2nd CC at Southern Counties Championship Show 31/5/13, Judge Nick Grosvernor. He was awarded Best Of Breed and was short listed in the large Pastoral Group.

Sevi won his 3rd CC at Richmond Championship Show, 6/9/13, Judge Ben Reynolds-Frost. He was also awarded Best Of Breed and, again, was short listed in the Group.

This mean that Sevi is now our first home breed Show Champion.

Sevi's record, to date, is what Dreams are made of.

Sevi's best friend remains Vicky's Papillon, Tigger, who he shares a cage in the van and his bed. They play beautifully together and Sevi is so gentle with him, they are often seen sharing a bone. Sevi loved playing with Charley's pups that were born at the end of June 2012 and allowed them to climb all over him and bite his tail.

Sevi has now sired four litters of beautiful puppies who not only have his good looks, but also his fantastic temperament .

His first litter was to our Tia and pictures can be seen on previous litter pages.



Here are a few Photos of Sevi


| | |
| --- | --- |
| Baby Sevi with his Tigger | His first trip though the Tunnel |
| Sevi in the Sun | Out on a walk |
| Posing for a Photo | Sevi with a real Tigger |
| Asleep with Tigger | Sevi and Tigger, sharing a bed |
| Visiting Gran and Grandad | Winning at Crufts |
| On the move | A True Showman |
| Get Ready | Get Set |
| GO! | And Over |