Home
Latest News
About Us
Rainbow Bridge
Fern
Tia
Evie
Charley
Sevi
Tigger
Zuri
Talisker
Alfie
Pedigrees
Current Litter
Previous Litters
Health Tests
Links
Contact Us

Charley's Litter born 25th June 2012


Jupavia Fifty's Girl x Jupavia Prince Of Thieves


| | |
| --- | --- |
| Jupavia Prince Of Thieves (Alfie) | Jupavia Fifty's Girl (Charley) |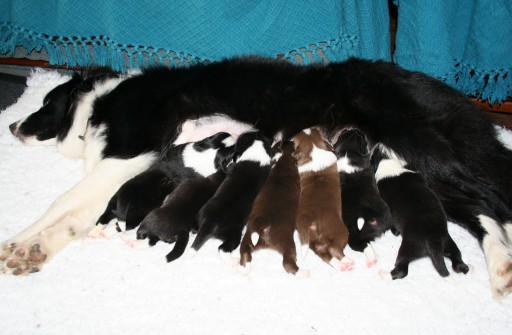 Litter pedigree
Charley gave birth to her 2nd litter on 25th June 2012. The proud father was again Alfie (Jupavia Prince Of Thieves).
The litter consisted of 2 red and whites and 5 black and whites, 3 girls and 4 boys.

Charley had a very long labour as all the pups were at least a pound in weight. She is such a natural mum and has so much milk (gold top) and once again absolutely adored her pups and spent as much time as possible in the pen, feeding and cleaning them.

Eventually Charley allowed the others to join in playing with the pups. Grandma Tia, Fern and Evie were the ones who gently taught them manners around the adults. Sevi and Tigger were the naughty big brothers who played with them and taught them to get up to mischief.

All the puppies have gone to their new homes with wonderful handpicked owners.

Charley will have a final litter, all being well in a couple of years, may be with Sevi as the sire.


| | |
| --- | --- |
| Barbara and Puppies | Buddy |
| Buddy and Shelby | Charley and Puppies |
| Darcy helping himself to Charley's food | Eddie and Shelby plotting their escape |
| Leo | Leo in the garden |
| Litter Medley | Mikki with puppies |
| Sevi and Buddy | Sevi sharing with Tehya |
| Tigger, Shelby, and Leo | Lily |

Here are pictures of the litter just before they went to their new homes


| | |
| --- | --- |
| Tehya | Shelby |
| Lily | Leo |
| Eddie | Darcy |
| Buddy | |