Home
Latest News
About Us
Rainbow Bridge
Fern
Tia
Evie
Charley
Sevi
Tigger
Zuri
Talisker
Alfie
Pedigrees
Current Litter
Previous Litters
Health Tests
Links
Contact Us

Tia's Litter born 22nd July 2008


Goytre Tia's Legacy Of Dreams At Jupavia X Show Champion Wizaland Cool Nifty Fifty JW


| | |
| --- | --- |
| Dam: Tia's Legacy Of Dreams At Jupavia | Sire: Wizaland Cool Nifty Fifty |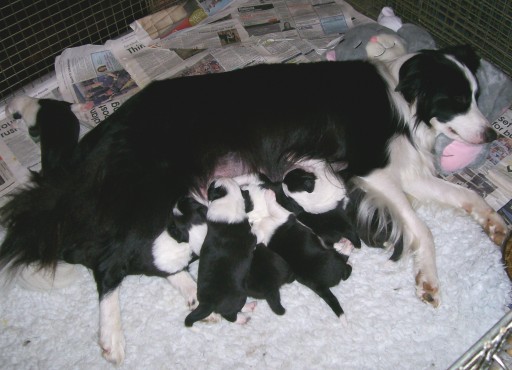 On 22nd July Tia gave birth to 7 beautiful babies all weighing between 12 and 14.5 oz. Unfortunately she lost 2 more the last of which she had to endure a C section for. This was very sad but mother and 7 are doing really well. Tia has bounced back from her operation and the stitches have been removed.

She is proving to be a natural Mum just like her sister Fern. She is very attentive and keeps them spotless. She is still keeping a strong eye on anyone who visits to see the babies but as long as she can see them she is quite happy. She is keeping the other dogs out of her room (our lounge). Fern is dying to get in the puppy pen but Tia is having none of it at the moment.

Puppies are all gaining weight evenly and certainly love comfort already. I was asked if these pictures were staged? No they were not.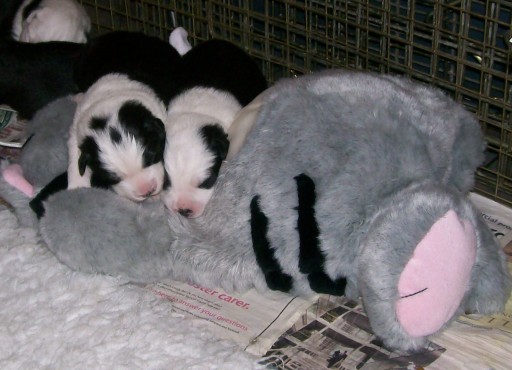 At 11 days old their were getting up on their feet. Their eyes were just starting to open, as usual the girls were ahead of the boys.



Videos on YouTube


| | |
| --- | --- |
| | On Thursday 28th all the puppies and Tia had a trip in the van to Animal Health Trust at Newmarket. This was for the puppies eye and BAER hearing test. They passed both so there is no excuse, later, for them when they ignore commandsJ |
| | When we arrived home they had an hour in the garden playing with toys and their Mum. They are growing fast and developing by the day. They are much steadier on their feet and move at an incredible speed around the lounge and garden. |
(Click here for more Jupavia videos from YouTube)



Here are pictures of the litter as they went to their new homes


| | |
| --- | --- |
| Charley | Luke |
| Meg | Murphy |
| Roxy | Soll |
| Sulley | |